JORDAN HIGHLIGHTS ADVENTURE
AMAZING 7 NIGHTS HIGHLIGHTS TOUR
Get a taste of the Middle East on this amazing 7-night Highlights of Jordan tour, spend a night under the stars in the Wadi Rum Desert, explore the ancient city of Petra and float till your hearts content in the Dead Sea. You'll join your Solo Travellers tour in the cosmopolitan capital, Amman, where you will have two nights to discover everything this exciting city has to offer. We'll travel to the ancient Roman ruins of Jerash and the Ajloun Castle, before heading south to explore one of the world's seven wonders; the historical city of Petra. We'll have two days here to relax, admire the views and discover the history of this ancient sandstone city. From here, we'll admire the spectacular sights of the Wadi Rum as we race through the desert by jeep and spend a night under the stars in a desert camp! You can then relax and enjoy the sun and sea breeze in the beautiful holiday town of Aqaba before our penultimate day takes us to the lowest point on earth; the Dead Sea. Float in the mineral-enriched healing waters of this magnificent salt lake before heading back to Amman for your final night.
Welcome to Jordan. Today is an arrival day and there are no planned activities.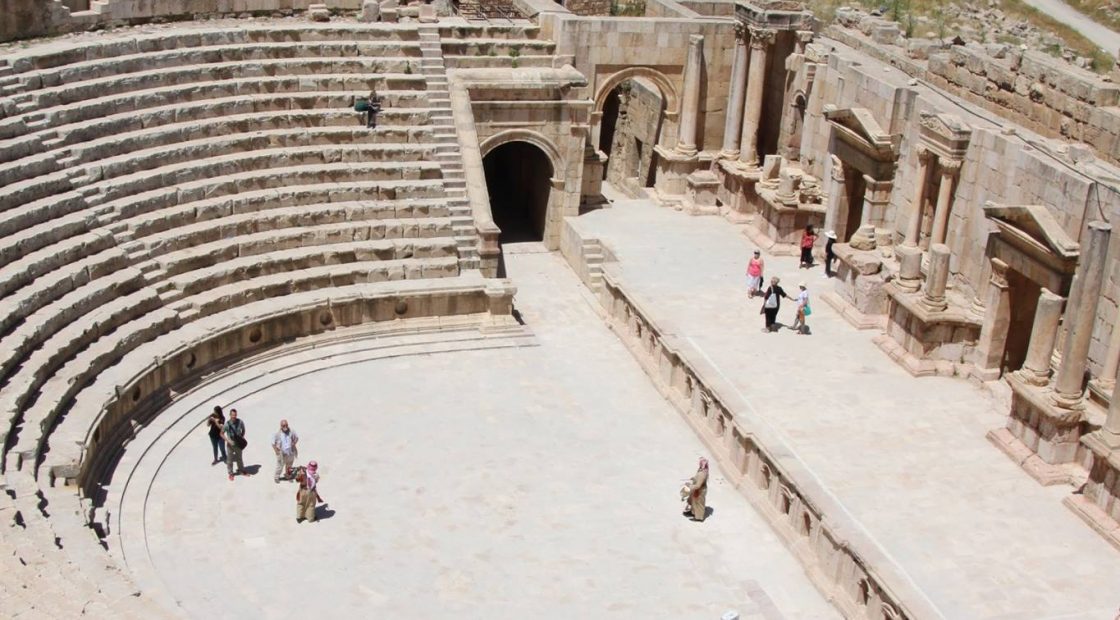 Amman / Jerash & Ajloun Castle
After breakfast at the hotel, you will begin a full day tour to the well-preserved Greco-Roman city of Jerash, also known as the Pompeii of the east, and Ajloun Castle, both are located approximately 70km north of Amman. Whilst in Jerash we will visit the Hippodrome, the Oval Colonnade Piazza, the Temples of Artemis and Zeus, and the South Theatre. Overnight in Amman.
Amman / Madaba / Mount Nebo / Kerak / Petra
After breakfast, you will begin your journey to Madaba, an ancient town known for its famous mosaic floor in the Greek Orthodox church of St. George. From here, you will continue to Mount Nebo, where, on a clear day, you have views of the Jordan Valley and the Dead Sea. The next stop today will be to Kerak Castle, a large crusader castle dating back to 1140. We will then continue our journey to Petra, where we will spend the night.
Today we will have a full day visit to one of the Seven Wonders of the Modern World; the Rose City of Petra. Walking through its canyon, you will witness the amazing sites of the Treasury, the City Centre, the Royal Tomb, the High Place of Sacrifice and the Roman Soldiers Tombs. Overnight in Petra.
Today we will have another day to explore the incredible ancient city of Petra. In the late afternoon, we will depart for the Arabian Desert; Wadi Rum. The Wadi Rum desert is like a moonscape of ancient valleys and towering weathered sandstone mountains, rising out of white and pink coloured sands. When we arrive, we'll head out with a friendly Bedouin driver, rumbling through valleys and gorges, and stopping for photos at beautiful viewpoints. This evening we will enjoy a traditional dinner around the campfire. There's nothing left to do but relax and await the twinkling of stars in the night sky. Overnight in a comfortable desert camp.
This morning you have the option to watch the sunrise over the desert as you take a ride on a camel! Afterwards, we'll head back to camp to enjoy breakfast in the open air and then we'll leave the desert behind and travel on to Aqaba, where you will have some free time to explore on arrival. The main attraction in Aqaba is the Red Sea, which has many things to offer. Overnight in Aqaba.
After breakfast, we will depart Aqaba and continue our journey to the Dead Sea, where you can relax in its mineral-enriched, healing waters. The Dead Sea is the lowest place on earth at 430m below sea level! The water is so salty that you will be able to float till your heart's content on this magical salt lake. Afterwards, you will be transferred back to Amman, where you will spend the last night of your tour.
Bid a fond farewell to Jordan
Bid a fond farewell to Jordan as you have come to the end of your highlights of Jordan tour, and will be transferred back to the airport for international flights.
Check FCO Travel Advice and Entry Requirements
https://www.gov.uk/foreign-travel-advice/jordan/entry-requirements
Visa Requirements
British passport holders can refer to this link:https://www.gov.uk/foreign-travel-advice/jordan/entry-requirements#visas However if you are joining the trip from any other country, check with your local Embassy.
Vaccinations and Health Advice
You can check Vaccinations and Health Advice via this link or your with your local GP surgery https://www.fitfortravel.nhs.uk/destinations/middle-east/jordan
Travel Insurance
Travel Insurance is mandatory for all our trips and should include Covid cover for trip cancellation. It must also cover you for any activities that you book that are not included in the itinerary.
Packing List
Power adaptors- https://www.power-plugs-sockets.com/jordan/
Sun protection - hat, sunscreen, sunglasses
Travel wipes/ Hand sanitizer/Face Mask
Comfortable Walking shoes/trainers with good grips as the climb in Petra can be very uneven
Head scarf or something that will also cover the face to keep the sand off your face and eyes in the desert
Swimwear for the dead sea and towel
Beach shoes for the dead sea- the beach is pebbly so you would need beach shoes with a grip
Clothing- Although Jordan is a predominantly Muslim country, it is a very liberal country and there are no formal dress rules, however when visiting Holy Places,(ie Mosques) you are requested to dress respectfully. It's always good to carry an additional warm piece of clothing for the desert at night
Medication – If you are carrying prescribed medication, you will need to carry a doctor's note with you to verify this.
CURRENCY
The preferred local currency in Jordan is Jordanian Dinar. You can also use US Dollars, but will generally get any change back in Dinar's. ATM's are available in most towns and credit cards are also accepted in most places. We would recommend budgeting approx £35.00/£40.00 per day for meals and extras (not including alcohol). You can buy this in the UK before you travel. Tips for guide and driver and any optional activities are not included in this budget. Tips of course are discretionary for rewarding good service. We recommend USD5.00 per person per day to be split between the guide and driver.