BEST OF EGYPT INCLUDING NILE CRUISE & ABU SIMBEL
BEST OF EGYPT INCLUDING NILE CRUISE & ABU SIMBEL
Travel to ancient Egypt with other Solo Adventurers on this 9-day adventure to the 'Land of the Pharaohs'. Begin your journey in the Egyptian capital, Cairo, full to the brim of chaos and contrasts and of course, home to the world's last remaining ancient wonder; the Great Pyramids of Giza. Take the overnight train to Aswan to sail on an Egyptian Feluccia around Elephantine Island, where the rivers flow gently from Lake Nassar. Continue your journey to Abu Simbel to visit the huge temples that were carved out of the mountainside in the 13th century. Then, you will embark upon a 3-day cruise down the world's most iconic river; the Nile, an undoubtful highlight of this trip. Finish up your Best of Egypt tour in Luxor, home to the great Luxor Temple and the Valley of Kings, where the tombs of Tutankhamun and Ramses VI lie. Despite the recent political turmoil Egypt has faced, its people remain as warm and welcoming as ever, so what are you waiting for?
Upon arrival, transfer to your hotel for check-in.
Egyptian Pyramids of Giza- one of the Ancient Seven Wonders of the World
After breakfast at the hotel, you will begin the journey to Giza to visit the only remaining ancient wonder of the world; the Great Pyramids of Giza. Whilst here, you will also see a Royal Burial Chamber and the Sphinx. Built during a time when Egypt was one of the most powerful civilisations in the world, the pyramids are some of the most magnificent man-made structures in history. More than 4000 years after they were built, the pyramids still retain majesty, providing a glimpse into the country's rich and glorious past. After lunch, you will visit the Egyptian Museum, which is home to an extensive collection of ancient Egyptian antiquities, including many treasures of King Tutankhamen. Overnight in Cairo.
After breakfast, you will have the day at leisure. In the early evening, you will be transferred to the train station for an overnight train (dinner will be on-board) to Aswan.
Upon arrival in Aswan, your driver will pick you up from the train station and take you to visit the High Dam which is situated across the River Nile and was constructed between 1960 to 1970. Next, you will visit the Philae Temple, located on an island in Lake Nassar. After this, you'll head to your Nile Cruise for check-in and lunch. In the afternoon, you will sail on an Egyptian Felucca around Elephantine Island and the Agra Khan Mausoleum before visiting a Nubian Village. Overnight on board the boat in Aswan.
Abu Simbel UNESCO World Heritage Site
This morning requires a very early start. Breakfast will be provided to take with you on the bus to Abu Simbel. These two huge temples, carved out of the rock, are situated on the western bank of Lake Nassar, about 230km southwest of Aswan. The twin temples were originally carved out of the mountainside during the reign of Pharaoh Ramses II in the 13th century BC, and are now listed as a UNESCO World Heritage Site. After returning to Aswan, you will board your River Nile Cruise for lunch and sail to Kom Ombo. Upon arrival, you will visit the Sobek Temple, which is just a short walk from where the cruise docks. Kom Ombo is an agricultural town that became a Greek settlement during the Greco-Roman period. Dinner and overnight on board.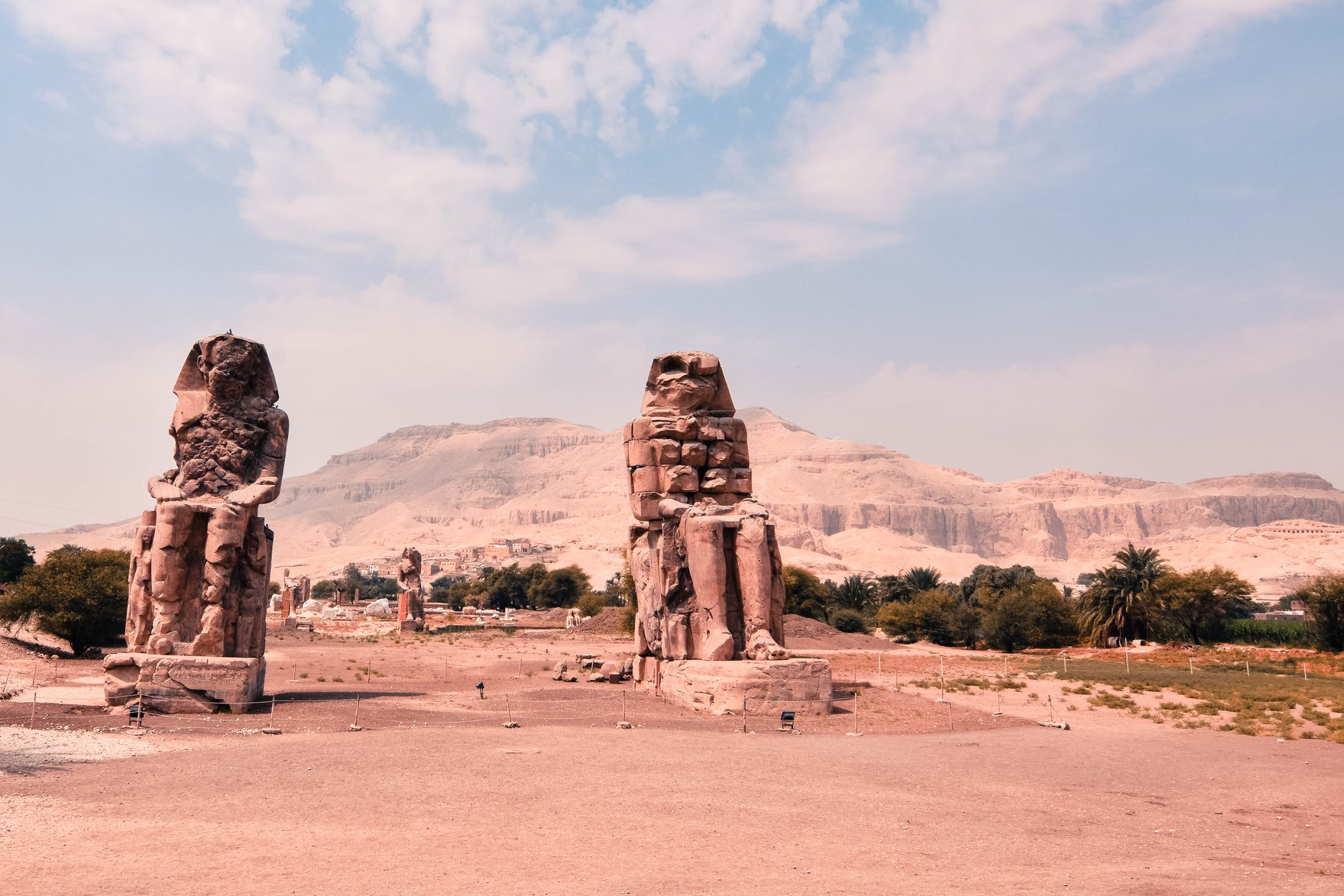 After breakfast, your cruise will dock in Edfu where you can disembark and go for a wander. The town is home to the Temple of Edfu, a well-preserved temple dedicated to the falcon god Horus which was built in the Ptolemaic period between 237 and 57 BC. The only way to reach the Edfu Temple is by horse and cart. The rest of the day will be spent at your leisure on board as we sail on to our final destination, Luxor.
Karnak Temple Complex-Luxor
After breakfast, this morning we will disembark the boat and then visit the great Luxor Temple and the magnificent Karnak Temple of Amun with its famous Hypostyle Hall, 134 huge columns, the Statue of Ramses II, the Obelisk of Queen Hatshepsut and the Sacred Lake. In the afternoon you'll have free time to relax. Dinner will be at the hotel.
Overnight in Luxor.
In the morning, you will begin your sightseeing tour of Luxor. You will visit the Valley of Kings, where some of the richest treasures in the world exist. You will also be able to visit some of these royal tombs including the Tomb of Tutankhamun and Ramses VI. Afterwards you'll visit the Mortuary Temple of Queen Hatshepsut, and finally, you'll visit the Colossi of Memnon, two massive stone statues of Amenhotep III. Dinner will be at the hotel.
***optional sun rise balloon ride over the Valley of the Kings**
Today you take you early morning flight back home.
Check FCO Travel Advice and Entry Requirements
https://www.gov.uk/foreign-travel-advice/egypt/entry-requirements
Visa Requirements
A valid visa is required for Egypt. British passport holders can get an evisa via this link https://www.visa2egypt.gov.eg/eVisa/ However if you are joining the trip from any other country, check with your local Embassy.
Vaccinations and Health Advice
You can check Vaccinations and Health Advice via this link or your with your local GP surgery https://www.fitfortravel.nhs.uk/destinations/africa/egypt
Travel Insurance
Travel Insurance is mandatory for all our trips and should include Covid cover for trip cancellation. It must also cover you for any activities that you book that are not included in the itinerary.
Packing List and other Useful information
Power adaptors- https://www.power-plugs-sockets.com/egypt/
Sun protection - hat, sunscreen, sunglasses
Travel wipes/ Hand sanitizer/Face Mask
Insect and Mosquito repellent
Comfortable Walking shoes/trainers with grip as some of the paths can be uneven or rocky
Clothing- Egypt is a predominantly Muslim country, so it is respectful for women to dress conservatively so as not to attract any unwanted attention. When visiting Holy Places, (ie Mosques) it's good to carry a shawl or scarf.
Medication – If you are carrying prescribed medication, you will need to carry a doctor's note with you to verify this.
CURRENCY
The preferred local currency in Egypt is Egyptian Pounds. ATM's are available in most major towns and credit cards are also accepted in most bigger restaurants, shops and hotels. We would recommend budgeting approx £20.00/£25.00 per day for meals and extras (not including alcohol). You can buy this in the UK before you travel. Tips for guide and driver and any optional activities are not included in this budget. Tips of course are discretionary for rewarding good service. We recommend USD5.00 per person per day to be split between the guide and driver.