Wonders of Kerala and Backwaters Adventure
WONDERS OF KERALA AND THE STUNNING BACKWATERS
WONDERS OF KERALA AND THE STUNNING BACKWATERS
Join other Solo Adventurers on this amazing 9 day tour of 'God's Own Country', Kerala. Visit the cultural fishing village of Kumbalanghi in Cochin, marvel at the magnificent mountain scenery at the Munnar tea plantation, spice things up at the Thekkady spice plantation, visit Kerala's largest freshwater lake in Kumarakom, explore the temples of kollam and kovalam and finally gaze at the paddy fields as you drift down Kerala's famous backwaters on a houseboat for the night, feasting on backwater delicacies prepared by your own personal chef… what could be better? this Kerala tour is not to be missed.
Today you will arrive in Cochin. There are no activities planned today but if you arrive in time for dinner, you can join the guide for dinner and get to know your other group members.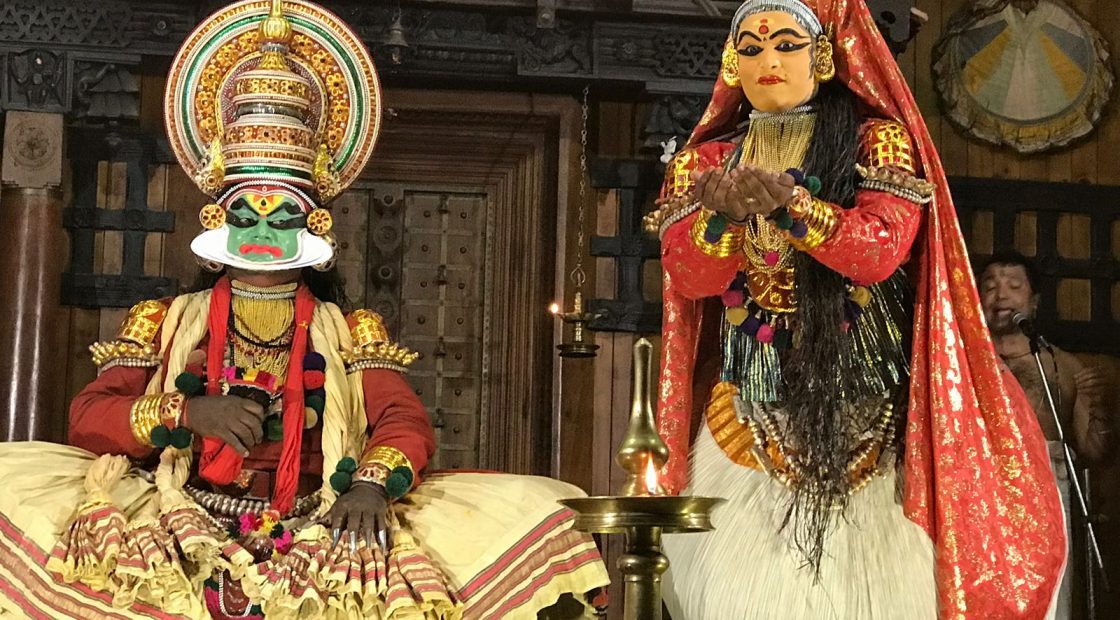 Explore Cochin – Jewish quarter and Port Area- Traditional Kathakali show in the evening
After breakfast at the hotel, you will begin a half-day guided sightseeing tour of Cochin. Highlights will include the Dutch Palace, built by the Portuguese in 1557, the Jewish Synagogue, built in 1568, and the Santa Cruz Cathedral Basilica, one of eight basilicas in Kerala. You will also see the iconic Chinese Fishing nets. In the evening, you will visit the Cultural Art Centre that showcases Kerala's best known dance drama, Kathakali, and other Art forms of South India. An interesting make up application demonstration of the show starts an hour before the show itself.
Magnificent Munnar Scenery and Tea Estates
After breakfast we will start our 4-5 hour journey to mesmerising Munnar. You will pass through beautiful scenery including stunning tea and spice plantations. We will stop at the Tea Factory and museum in Lockhart where you will learn about the history of the tea estates and the various stages of tea processing. We will then check into your hotel which is nestled in the stunning hills with amazing views , where you can relax before dinner in the evening.
Nature walk in Periyar National Park
Enjoy a breakfast at the hotel and today we start our day with take a beautiful drive down to the green mountains of the Nilgiris. Rubber, coffee and cardamom plantations and tea gardens will follow. In the afternoon, explore the beauty of nature and the flora and fauna of the region, with a 2-hour nature walk in the remote areas of the Periyar National Park. It provides sanctuary for wildlife such as Tigers, Elephants, Bison, Sambar, and Wild Boar.
Local Village Life Experience
After breakfast, check-out from the hotel and proceed to Alleppey. Alappuzha – most still call it Alleppey – is the hub of Kerala's backwaters. In the late afternoon you will proceed to the Village Life Experience Program in Kumarakom (Winner of UNWTO ULYSEES Award). The village is well acclaimed for its backwaters, delicious cuisines and greenery. This tourist destination, over the years, is one of the most-visited in Kerala. Our journey will begin at Kavanatinkara after a briefing session. You will be accompanied by a guide who will familiarize you to the picturesque landscapes and the lush green surroundings of Kumarakom. Afterwards, return to your hotel to enjoy the water front and view the spectacular sunset.
Board a Houseboat to Enjoy the tranquil Kerala Backwaters
After breakfast you will be transferred to a fully furnished exotic houseboat, which will take you down Kerala's serene backwaters. Watch and relax as rustic backwater life floats by, whilst treating yourself to a plate of backwater delicacies, prepared for you by your own personal chef. This is one of Kerala's most stunningly beautiful and relaxing experiences.
Beach Time and Trivandrum Sightseeing
After breakfast check out and proceed to Kovalam to check-in to your next hotel. Kovalam is an evergreen and pleasant beach resort. Kovalam has three beaches separated by rocky outcroppings in its 17 km coastline; the three together form the famous crescent of the Kovalam beach. In the afternoon we will proceed for local sightseeing of Trivandrum to explore some of the best landmarks and attractions of this city. Sree Padmanabha Swami Temple, one of the richest temples in the world, the Kanakakkunnu Palace and the Kowdiar Palace are some of the last remaining royal insignia of this city, which will remind you of the erstwhile kingdom of Travancore.
After breakfast use the rest of the day for some well-earned time to relax and enjoy the beautiful surroundings. Maybe have some beach time or a relaxing ayervedic massage.
Bid a fond farewell to Kerala- depart Trivandrum
In the morning, you will have breakfast at the resort and later, check-out of the hotel and drive to airport for your return journey with beautiful memories in Kerala.
Check FCO Travel Advice and Entry Requirements
https://www.gov.uk/foreign-travel-advice/india/entry-requirements
Visa Requirements
A valid visa is required for India . British passport holders can refer to this link:https://www.hcilondon.gov.in/ However if you are joining the trip from any other country, check with your local Embassy.
Vaccinations and Health Advice
You can check Vaccinations and Health Advice via this link or your with your local GP surgery https://www.fitfortravel.nhs.uk/destinations/asia-east/india
Travel Insurance
Travel Insurance is mandatory for all our trips and should include Covid cover for trip cancellation. It must also cover you for any activities that you book that are not included in the itinerary.
Packing List and other Useful information
https://www.power-plugs-sockets.com/india/
Sun protection - hat, sunscreen, sunglasses
Travel wipes/ Hand sanitizer/Face Mask
Insect/Mosquito repellent
Comfortable walking shoes/trainers or sandals
Light fitting and loose clothing especially for visits to temples (long sleeves and long trousers are recommended)
If the trip is during Holi, you can take some white clothing to wear on the day that you are happy to spoil or you can buy something locally
Medication – If you are carrying prescribed medication, you will need to carry a doctor's note with you to verify this.
Print out of your visa and Travel Insurance Policy
CURRENCY
The preferred local currency in India is Indian Rupees. You can buy these in India and will usually get the best exchange rates once in country. ATM's are available in most towns and credit cards are also accepted in most bigger towns but best to carry cash for local purchases from small businesses. We recommend budgeting GBP20.00/25.00 per day for meals and extras but this of course depends on where you eat and the number of courses. This doesn't include a budget for alcohol or tipping. Tipping isn't mandatory but if you wish to reward the guide and driver for good service we recommend USD3.00-5.00 per person per day to be split between the guide and driver.